Santa Paws is coming to town soon, so it's time to start searching for the pawfect gift to give your furry friend this Christmas. Luckily, we've teamed up with a whole host of pawsome pet brands to put together the ultimutt hamper full of festive treats and goodies that will get those tails wagging. Check out what's inside… 
Red Deer Antler Chew 
If you're looking for something to satisfy your furry friend's urge to chew, Antler Chew's Red Deer Antler Chew offers 100% naturally shed antlers that are collected from UK forests and cleaned, without any nasty chemicals. They offer a much safer alternative to plastic or nylon chews that can cause gastrointestinal blockages, indigestion, and damage to their teeth. Packed full of protein, minerals, and calcium, these antler chews offer a completely sustainable treat for your pooch that is furrbulous for strengthening and keeping their teeth squeaky clean! Plus with zero odour and very little mess, they make great gift for your pooch.
Sniffe & Likkit's Dog Shampoo
Give your furr baby the royal treatment this Christmas. Sniffe & Likkit's 3 in 1 Brightening & Conditioning Shampoo not only leaves coats shining and smelling fabulous, but its blend of aroma-therapeutic essential oils offers calming and soothing properties to help your doggy find its zen. The pH-balanced, vegan-friendly formula also makes sure it's kind to the skin, with dog-safe ingredients, including shea butter extract, and white willow bark extract. Say goodbye to smelly canines! 
Furr Boost Hydration Drinks
Treat your furry companion to a tasty festive tipple this Christmas with Furr Boost. It's a favourite among even the fussiest of our four-legged friends, so it's sure to get them howling this season. They're available in three delicious doggy flavours – beef, broccoli, and blueberry; chicken, butternut squash, and cranberry; and pork, sweet potato, and apple. As well as the all-impawtent main ingredients, each flavour also contains a host of naturally added vitamins and minerals to aid healthy digestion, including chicory root extract which acts as a prebiotic, yeast beta-glucan to support the immune system, vitamin B for a healthy metabolism and immune system, and vitamin C as an antioxidant. 
Simply pour a ¼ pack for doggies up for 5kg and 1 full pack for those over 25kg over meat or veg for an extra special Christmas lunch, freeze for a refreshing enrichment treat or gently warm it up for a scrumptious post-walkies soup. Your pooch will wuff you for it! 
Sustainapaws Duck Toy 
Give a gift this Christmas that will keep your doggy and the planet happy! Sustainapaws Duck Plush Toy is made from up to 10, 100% recycled plastic bottles and is double layered with protection to cushion it from the wrath of those avid chewers. They're also ideal for those water-loving furr babies who like to take their toys for a swim with them. Floaty and furrbulous!
Sir Woofchester's Doggie Tapas
For the ultimate festive treat, Sir Woofchester offers a range of hand-baked treat pots. Made in Britain with natural, grain-free ingredients, Sir Woofchester is feeding our four-legged friends with the very best ingredients so they can indulge in a royal feast this year! Available in a range of flavours, including Sunday Roast with lamb and mint bones, Bark Bangers with mini chicken sausage treats, Bark Bangerswith beef pasties and cheese, and Sleepy Bones with chamomile and valerian root. Remember to give your precious pooch specifically designed meals, like these from Sir Woofchester, as things like onion, garlic, ham, nutmeg, and cooked bones can cause digestive problems, or potentially more serious issues! 
Planet Underdog Compostable Poo Bags
It's the time of year to give back, and there's nothing more rewarding than giving back to the planet. With more than 900 million dogs on the planet, owners using plastic or biodegradable poop bags could be contributing more than 8.13 trillion kilograms of CO2 to the atmosphere. By using Planet Underdogs compostable poop bags though, these bags will break down fully into natural components which are entirely planet-friendly! Everyone would have a very happy howlidays if they switch to compostable bags now! 
Nibble & Nosh Chicken Twist Treats
Nibble & Nosh's Tantalising Chick Twists are the perfect tasty treat for those post-Boxing Day walks. Made from the highest quality chicken from choice cuts, the chicken twists are an excellent source of protein and are packed full of vitamins B3 and B6 while being naturally low in fat – it'll leave them howling for more every time! Chicken jerky and tenders can often be a hazard for dogs, causing serious kidney problems, so make sure to stick to these chicken treats that are tasty and healthy for your furr baby!
Scoff Paper Edible Birthday Cards 
Not only do Scoff Paper's Christmas cards make a beautiful addition to your festive interiors, but they also make a delicious treat for your pooch too! Its edible greeting cards combine tasty flavours, including turkey, bacon, cheese, chicken, and peanut, with fun designs to deliver a nutrient-rich, vegan-friendly treat that is free from all the nasties! What a furrtastic way to spread some festive joy?!
W'zis Postman & Roast Treat
Get those paws in the air with the W'zis Postman & Roast treats. The 100% natural, grain-free, plant-based dog treats offer a firm texture and an angular shape to help your furry friend enjoy their treat for longer while keeping those pearly whites healthy. Plus, with only one calorie per treat, they're pawfect for taking on a long walk or during training. Available in three flavours Lamp Post & Chips, Slipper & Biscuit, and Postman & Roast, they contain plenty of veggie goodness, including sweet potatoes, peas, tomatoes, pumpkin, broccoli, and sunflower seeds. Other veggies, such as corn and avocado, can be poisonous to your doggies, so these treats are great choice!
Nuts for Pets Poochbutter 
Looking for a versatile treat? Nuts for Pets Poochbutter is a dog-friendly peanut butter for your furry companion! Packed full of vitamins B6 & E, niacin, protein, and added honey for necessary stickiness, the poochbutter is completely safe for dogs and puppies. Plus, it's made with zero salt, sugar, palm oil, or xylitol, so you can let your pooch enjoy some buttery goodness, without the fatal and toxic dangers that hoo-man peanut butter can cause! Whether it's hiding medication, baking your own peanut butter treats, adding to meals, spreading on lick mats or into fillable toys, off the spoon, or straight from the tub – there are countless ways for your furr baby to indulge and go nuts this Christmas!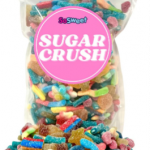 So Sweet Sweet Treats 
Christmas wouldn't be Christmas without a treat for the hoo-mans, too! Let your furr baby indulge in its furrvourite treats while you enjoy a So Sweet Pick 'n' Mix Grab Bag, filled with an array of tasty fizzy and non-fizzy sweets!